We know what it's like to not always have appreciation directly given to us as fellow moms here at Sparkle & Glitter.  We even get caught up in the day, or week, or month just like everyone else.  Sometimes we're given a "thanks mom" in the form of a kiss or hug…and sometimes, that love is returned in other forms like eye-rolls and groans.  We even forget to do the same for our own mothers.
Because we have first-hand experience, we're here to help you, the non-mom, on some timeless and not-braking-the-bank kind of ways to show your mother some much-needed love on Mother's Day 2018.
Anyone can buy a gift for mom, but it's the thought behind it that makes it so special.  Gifts don't need to cost a lot to show mom just how much you love her while also keeping your expenses down.  For spouses and older children, or spouses could have the younger children assist, try making a home-cooked meal rather than a fancy restaurant.  As much as women appreciate being wined and dined, sometimes the more practical route is easier in many ways including trying to find a babysitter other than grandma.
Some women like a little bling or an expensive purse (that barely gets used, or if it is, gets marks from markers, puke, and God only knows what else on it), but most times, us mom's like a more timeless type of gifts, especially one that reminds us of a happy time.  If this is the kind of gift you're looking for, we have the perfect gift ideas: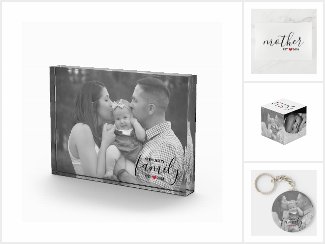 We have a variety of products that can be customized.  Can mom use a new jewelry/trinket tray?  Perhaps, she's all about family photos around the house so she'd love a custom photo block, wall wrapped canvas, a keychain for her keys, or even a pillow to signify the fact that she's a new mom?
Regardless, we hope that you and your mom have a very, happy Mother's Day!